Shemale Escort London Interracial Fantasy Threesome!
4/6/2015
Shemale London Escorts Blog
This week we bring you a naughty story from one of our favourite fans who booked two of our shemale escorts last week. Got your attention?
Of course we have! There's nothing you would love more than having two shemale escorts to please, is there?... So listen here...
I was a little nervous but way more excited as I waited for Leila Diniz and Leticia Bysmarck to turn up to my hotel. I had met Leticia before, but not Leila, let alone has an interracial shemale threesome with these two dominant trannies! All sorts of thoughts were running through my mind and I wondered whether I might actually be able to cope with these two horny t-girls taking it in turns to use me - but I figured you only live once and I wanted to experience it! Let me tell you, after reading this, so will you!
So they both turn up to my room in Mayfair dressed in those kinds of coats you imagine flashers wear, my eyes darted up their stockinged legs and heeled feet to their gorgeous faces as they smiled and said, "heya!"
I was choked for words at first and managed to summon the strength to mutter a "hello, please come in!"
Inside they looked around the room and I offered them both a glass of Champagne that I'd had brought up before (there were no expenses spared this night!). They gladly accepted and started sipping their bubbly, giggling away at each other.
In their presence I felt their eyes boring into me, their dominant personalities overstating my own and the butterflies in my stomach went into overdrive. Two naughty shemale dominatrixes they could sense me regressing into myself and started wildly flirting with me, touching my arm and stroking my face. Teasing me with their delicate touch as they giggled between each other.
My stomach flipping, my throat was constricting, my mouth salivating. Leila in her deeper voice asked me, "what do you want us to do with you?" Her eyes looking deep into mine, I felt like I couldn't tell her any lies and confessed, "I want you two to use me!"
Leticia laughed and replied, "then be a good boy and get down onto your knees!"
I obliged immediately, not wanting to disappoint my mistresses. They closed in their crotches around me, their tight little matching dresses barely concealing their sexy bulges. I was admiring the latticed silk pattern on Leila's black knickers when Leticia grabbed the back of my head and pulled my nose into her crotch, forcing herself on me.
I let out a little whimper when she told me, "lick me". I stuck my tongue out immediately and felt her cock harden behind the course fabric of her knickers. As she told me I was a good boy obeying her, I felt Leila grab my hair and force my face onto her rock hard thick cock.
"Do you think you can handle both of us?" She asked, sipping her champagne nonchalantly.
"I don't know," was all that my weakened voice managed to produce and the two of them looked at each other with a naughty glint in their eyes.
"Well you better try harder!" Leila responded sternly as she pulled out her huge black cock. "Now open your mouth!"
She forced herself down my throat, then pulled herself out, softly teasing my lips with the tip of her dick. Then, just as she gently removed it from my mouth, I felt that yank on my hair again and my throat bulged with the thick cock of Leticia as she demanded that I "suck it".
"Seeing a hot black tranny and a white dominatrix stand over me and use my body was the horniest situation I have ever been in..."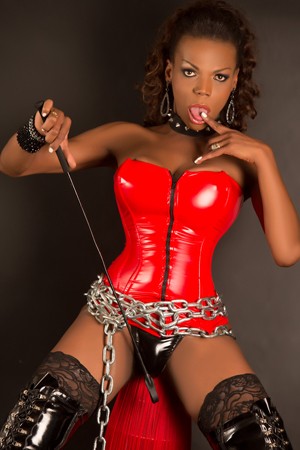 They took it in turns over and over again, rubbing their thick black and white cocks over my face, my own saliva covering my skin, all the while sipping from their Champagne flutes.
When they had had enough of me on my knees they told me to come and pleasure them on the bed. Laying up against the head board, their throbbing dicks erect in the air, they kissed each other as I slowly pressed my lips gently down their legs until I reached their feet.
I let my tongue twirl around their toes, sucking the soles of their feet through their stockings. They took little breaks from each other's soft wet lips to tell me I was a good little boy doing their bidding, until they tired of me and asked told me that I had been abandoning their cocks for too long.
Holding each other's shaft I took in turns to take their dick in my mouth as deep as I could. Their willing little slave I couldn't resist, and as they asked me to get myself ready because they wanted to use my cute little ass, I knew this interracial shemale threesome was the best decision I have ever made. Seeing a hot black tranny and a white dominatrix stand over me and use my body was the horniest situation I have ever been in...
To find out more about this hot interracial shemale escort threesome, come back next week! ;)